More successful than other Asian countries in coping with the COVID-19 pandemic, Vietnam is becoming one of the most attractive places for e-business in the world. We study the features of promoting digital projects in Vietnam together with three experts: the head of the international payment provider and acquirer ECOMMPAY in the Asia-Pacific region, Gate2Asia expert Audrey Ottevanger, Softline's global business development and e-commerce manager Anton Mezentsev and Ivan Osipov, head of the international payment systems division.

Statistics speaks about the uniqueness of the Vietnamese economy. In a country with a population of 90 million, the unemployment rate is only 2.2%. 70% of citizens have access to the Internet. The age of most users is 25-34 years old.
According to experts, the e-commerce sector in Vietnam will grow 10 times in the next six years and reach $50 billion. Taking into account one of the highest GDP growth rates in the world (about 6% per year), Vietnam is becoming one of the most attractive countries for the expansion of foreign, including Russian and European, business. But for the successful promotion of projects in this country, it is necessary to take into account a number of its specific features.
Digital Vietnam: everything is just beginning
In 2019, Vietnam took 57th place in the Global Connectivity Index, which determines the country's readiness for the transition to a digital economy. In terms of readiness for the use of cloud technologies, Vietnam still ranks 14th among the countries of the Asia-Pacific region. The cloud services market in Vietnam is forecast to grow from $165M in 2019 to $291M by 2024.
The COVID-19 pandemic has dramatically increased the digital transformation of both the B2B and B2C sectors of the country's economy, affecting not only large enterprises, but also small and medium-sized businesses. Collaboration solutions, software for retail management and customer service, HR, marketing, logistics and cybersecurity are in demand here today. At the same time, the market will remain far from saturation for a long time.
Local specifics: blackouts, cybersecurity and native language
Audrey Ottevanger says
Despite the almost total Internet literacy (on average, the Vietnamese spend 3 to 5 hours a day online, using mainly mobile Internet), here they are quite calm about frequent local power outages. Vietnam ranks 77th in the world for energy efficiency, according to the Global Energy Architecture Performance Index.
Another factor limiting internet business in Vietnam is local legislation. For example, the personal data of Vietnamese citizens cannot be stored outside the country, so Internet companies entering the Vietnamese market should acquire local servers.
As in most Asian countries pursuing a policy of protectionism, Vietnam has withholding taxes that prevent foreign companies from withdrawing funds abroad. This must also be taken into account when opening a business in this country.
Finally, an important factor that can seriously affect the work of a foreign company in Vietnam is the peculiarities of the local mentality. The Vietnamese are far from always able and willing to speak English (in local schools they still teach mainly French), preferring to express themselves in their native language. This applies to both potential customers and employees.
In addition, the unwritten rules of local management differ from those adopted in Europe. For example, in Vietnam, the system of rewards and penalties does not always work: emotionally built relationships and a general friendly atmosphere are important here. And teamwork is more applicable at the lower levels of the corporate hierarchy. The higher the position, the more important unity of command.
After quarantine: payments went online
The most important factor in determining the success of a business in any country is understanding the payment behavior of its inhabitants. The payment landscape in Vietnam differs not only from the European one. The Vietnamese are used to paying for purchases and services differently than residents of other countries in the Asia-Pacific region. And this applies to both B2B and B2C sectors of the economy.
This difference was especially pronounced this year, during and after quarantine restrictions, which caused the rapid growth of electronic payments not only in Vietnam, but throughout the world.
Cashless payments account for 20% of total transactions in Vietnam. In recent months, due to the pandemic, the popularity of online payments has skyrocketed. According to official data, the total number of non-cash payment transactions through the State Bank system increased by 76% compared to the same period last year.
At the same time, mobile payments through local alternative payment systems, such as Momo, Moca and ZaloPay, are especially popular. They account forup to 90% of mobile payments in the country. As for non-mobile local payment methods, without which you can't go anywhere, these are online banking, local ATM cards, Viettel Post & Vietnam Post, and Nganluong.
The growth of payment transactions using the QR code of the local VNPAY system in February 2020 increased to 600%. At the same time, the Visa payment system announced the opening of 300,000 new card acceptance points in Vietnam by 2023 in partnership with local banks.
How to start working in the Vietnamese market
Here are useful life hacks from Anton Mezentsev, Global Business Development and E-Commerce Manager at Softline, and Ivan Osipov, Head of International Payment Systems. The company has been operating in the Vietnamese market for several years. Perhaps these tips will save you from unnecessary problems or misunderstandings of your Vietnamese clients and partners.
Obviously, but it is impossible not to say – test. One of the final steps before launching the project in Vietnam was the customization of the solution for local users, which is directly related to the specific culture of online payments that has developed in the region. To better cope with the solution of this problem, we conducted UX testing of our solution. Thanks to the data of the study, we learned a lot of new things. For example, invoice forms in Vietnam should be very different from those we are used to sending out in other markets, local card payments are made after logging into the client's online bank, and at the payment stage, local consumers are used to a large number of redirects in the order payment process.
Be patient in negotiations. Negotiations in English in Vietnam are often misunderstood, requiring new rounds and protracting the process. Long negotiations are inherent in most Asian countries – partners are not ready to make decisions here and now. Negotiation is accompanied by careful building of interpersonal relationships. Only after you manage to gain the trust of the Asian partner, you can count on a positive result.
Localize customer support. A prerequisite for working in Vietnam is the organization of user support in their native language. But that's not all. Vietnamese users often prefer not to contact technical support, but to call directly to the mobile phone of the branch manager or other manager, finding contacts on the Internet. This feature of proactive consumer behavior must be accepted as a given.
Development of tourism in Vietnam, influencer marketing and TV as a marketing channel
Vietnam awaits British tourists
Vietnam has opened its first international travel agency with the aim of attracting British visitors annually by 2023. The British PC Agency team will develop a PR campaign designed to tell the world about the historical sites of Hue and Hoi An, areas of natural beauty, including Nha Trang, Halong Bay, Phong Nha Ke Bang, cities such as Hanoi and Ho Chi Minh City, about the islands of Con Dao and Phu Quoc .
The core of the project is a public-private partnership with the National Tourism Administration of Vietnam and the Tourism Advisory Council, a private consortium of tourism stakeholders supporting the development of tourism in Vietnam.
How to Make Influencers Really Influential
A study by Instascreener found that a significant portion of influencer spending does not reach real consumers. Brands believe that influencer marketing can generate ROI. Instagram remains the platform of choice, with 4 out of 5 brands using it as their platform for future campaigns.
Like it or not, influencer marketing needs to move on. The industry is currently valued at $8 billion in total. However, following the Instascreener report, the overall credibility of influencer marketing could be in jeopardy again.
Fake followers will probably always be the main problem. And the amount of spending lost because of them continues to be a real concern.
Brands must take responsibility for media spending. It starts with understanding who makes money and how it's done. Using unbiased data and analysis, marketers should be able to decide which communication channel is best for a brand when compared to other media options.
Ignore TV is an odd choice for a major brand
If you have big budgets and do video ads, it doesn't make sense to cut TV during the Christmas campaign like Gap did . Despite an increase in advertising budget this year, the brand did not buy TV time for its holiday campaign. Instead, the Gap media team plans to advertise online and on social media. The focus on digital media makes a lot of sense given that Gap has refocused on targeting younger audiences.
Personalization 2k20
Personalization has been a "fantasy" for most marketers for a long time, but as technology has improved and data has become easier to generate, what once might have seemed like an illusion is now real. It is important to understand that personalization has limits. For example, companies will never have the level of control that real-time customization requires. Why do they want it so much ?
Big digital companies like Amazon and Netflix can attribute much of their success to personalized content, and email marketing has long been using basic personalization tools. However, automating content for specific user segments is time consuming – and you end up unable to keep up with the ever-changing consumer needs. AI, on the other hand, can process a large amount of data available in real time, thanks to which marketers will be able to analyze information and identify patterns of contextual behavior.
According to research done by Boostify, 90% of consumers report being positive about companies that treat them like individuals, but only 20% think there are brands that care about them.
How should the client-agency relationship be measured?
It is important to measure and control the relationship between the client and the agency . This is one of the main points in which both parties should invest. There are many systems for researching the relationship between advertisers and agencies. Some of them are incredibly detailed, asking 100 or more questions that take almost an hour to complete. Others have reduced the overall attitude measure to a single Net Support Index (NPS) question. The rationale here is that convenience and simplicity play to the needs of time-strapped marketers.
However, if customer relationships are important to the company, it's worth the time and effort. The iMARS team has understood this for a long time and successfully maintains good relationships with its customers.
However, even a rudimentary analysis of commercial agreements will find performance-affecting problems that no great relationship can solve. These problems include insufficient funding, advertiser underpayments, and increased workloads and contractual arrangements that are unsustainable. Then it is important to consider commercial arrangements to make the relationship sustainable for both parties, using a qualitative and quantitative approach.
Let's go in practice: 5 Marketing and Sales Techniques in Vietnam
1. Cheat subscribers
Driving through the streets of Vietnam in the evening in areas where noisy parties and discos take place, you can often notice that there are people in almost any of the clubs / bars / restaurants. At first glance, this looks completely normal. But often these people will be young attractive Vietnamese girls who, usually, will have a very small selection of drinks at their table, for example, only water, or a plate of fruit – these girls are not customers of the institution, but work as front customers.
A similar practice is widely used in China, only there they go further and such clients are often Europeans, who, for a certain fee, will attract local visitors to hot places. To do this, you just need to pretend to be a client of this institution and "don't take off your smile."
This technique helps local bars and restaurants in the fight for new customers, attracting them with the fact that "it's fun and crowded." Let's call it subscriber cheating or fake accounts for reasons of similar tricks in the fight for new customers.
2. Popup Ads
While AdBlock is gaining popularity on the Internet by blocking unwanted advertisements from netizens, there is no specific method of combating such advertisements on the roads in Vietnam.
The principle of operation of the described method is very primitive, but quite effective. Passing on scooters and motorcycles, people often become victims of a Vietnamese jumping onto the road from a restaurant located along the road. His goal is to get the customer inside by shouting out the most attractive prices or restaurant features. The Vietnamese has only two or three seconds before the potential client passes the point of no return.
Pedestrians also become victims of this technique. In big cities like Ho Chi Minh City, in tourist areas, you can often stumble upon a group of Vietnamese who will make a fairly large amount of effort to make a passer-by person their client.
The technique has been called "pop-up ads" due to the intrusiveness and often irrelevance of the message.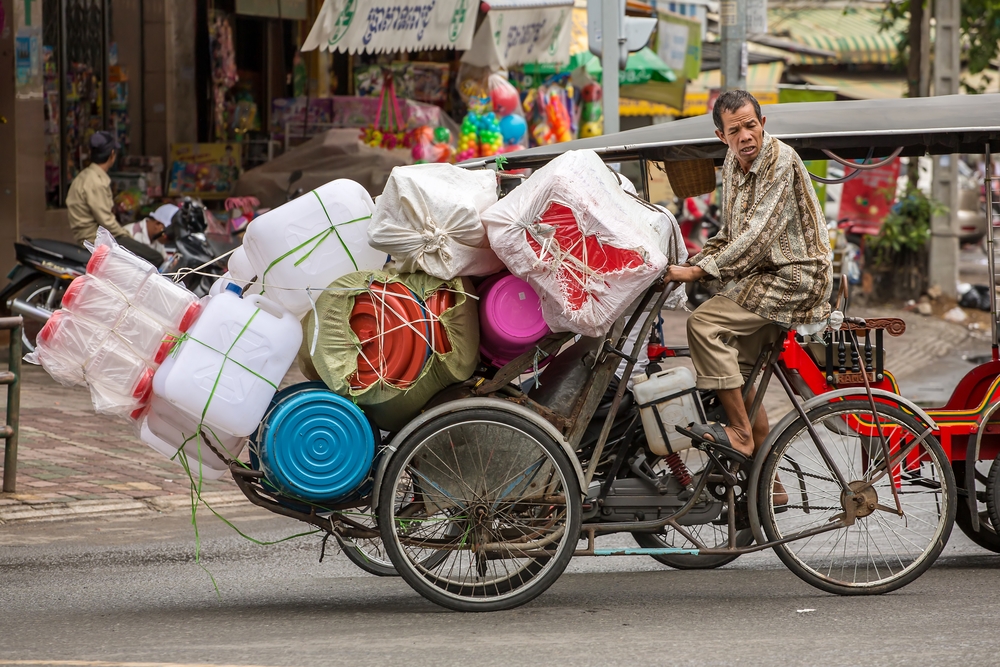 3. Spam
In Vietnam, you can also meet locals on sales bikes. Almost always, their bike is equipped with speakers, through which the same phrase in Vietnamese is played, which always sounds like "Sell N item here + who wants to buy N item + N item here + sometimes a description of the item and price is added to this. Reception is enough old and heavily used in Vietnam before the advent of spam emails, it sells just about anything from fruits to household items.
This method gets the name "spam" for the similarity in the distribution of advertising to people who did not express a desire to receive it. Often the work of such sellers starts at 6-7 in the morning, and if the windows of the potential client's house are open, the reluctance to receive this advertisement becomes very deep.
4. Managing the mood of a potential buyer
There are many elementary and rather complex methods for ensuring the sale of advertised goods and services through manipulation or psychological impact on the buyer, who wants to purchase not only a certain product, but also its "psychological image", which affects such aspects of the buyer as satisfying the need for sensation own masculinity, significance, belonging to a certain group of people and other aspects.
Almost everywhere in Vietnam you can see ice cream carts with a bike or motorcycle built into them, which allows such a cart to be constantly in motion with the operator folded. It can be erroneously assumed that the previously described spam method of attracting customers is used here: each cart is equipped with a good audio system, which allows all potential customers around to hear the most popular international music recordings. The sales effect largely works precisely due to the psychological impact on the buyer with the help of functional music , which solves the problem of increasing labor productivity, customer loyalty and creating a specialized atmosphere that encourages purchase.
In addition, one can trace the use of marketing analysis, namely geomarketing : ice cream sellers have a fairly good sales performance due to the well-chosen geographical location of sales points (the average temperature in the southern parts of Vietnam is +25 +30 degrees).
5. Active sales
Active sale is the process of exchanging goods (services) for money by searching for a client, identifying his needs and satisfying them.
This method is used by many Vietnamese sellers who sell goods such as mangoes, corn, beer, cigarettes, books and much more. In their arsenal there will be a small basket on the belt with the goods being sold, or a basket on the shoulders. They often travel by bike.
They usually work like this: beer sellers will find potential buyers on the beach on a hot day, come up, show the product, say a few motivational remarks and a price. Booksellers will see a future buyer bored in a bar and offer books of various genres in any language. The described method is one of the most successful working sales methods in the Vietnamese market.
If you know other interesting sales techniques in Vietnam and other Southeast Asian countries, leave them in the comments below.